Mudanzas Peyma
ASSOCIATIONS
Peyma is a member of the main removal, transport and storage associations.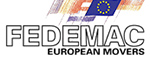 VEHICLES
Peyma has a modern fleet of vehicles which are able to do national and international removal services.
ESTIMATE
RESOURCES
HUMAN RESOURCES
Peyma has trained a team of skilled workers in all the fields (management, operations and sales). This team is able to offer you the best and quickest solution.
TECHNICAL RESOURCES
We have a large and modern fleet of vehicles with capacities ranging from 5cbm to 70cbm. Our trucks have air suspension, lift gates, padded interior, safety lock, non-slip floor and temperature control.
We have cranes which can reach as far as a 12th floor, derrick trucks, forklifts which lift upto 7 metres high and carry 2.500kg.
MATERIAL RESOURCES
Peyma offers you all the necessary materials to pack your furniture and all your household goods. We use the most modern packing materials (crockery boxes, glassware boxes, clothes boxes, book boxes, mattress covers, sofa covers, chair covers, bubble wrap, wrapping paper, etc.)